WE LOVE
MELBOURNE BASED BESTIES TALK TO US ABOUT THEIR CULT CANDLE BUSINESS - BLAZED WAX
When a lockdown hobby turns into a fully fledged business with your bestie, we all want to hear about how it's done.
How did your business get started and what were the main challenges?
Our business came very naturally. It was the start of Covid and as we are housemates we were stuck at home not able to go to work or see anyone else (everyone knows this feeling haha), and a big part of our friendship is our love for creativity and making things together. It was just another one of our creative endeavours, and when we made a few we thought to ourselves, 'wow this is great stuff, (haha) let's see if we can sell them!'. We both have other businesses (Ruby is a jeweller and runs Kannava Jewels, and Emma is Fashion Designer and runs Sister Studios) so we luckily already knew what it takes to make a business, so we threw together a website as well as a bit of promotion from our other businesses and various creative friends sharing our first drop of candles, and they all sold out in one night. We really couldn't believe it. And so Blazed Wax was born and we have been making and selling candles ever since. The biggest challenge for us is balancing Blazed with our other businesses. Thankfully Kannava Jewels and Sister already shared a studio, so having the space for Blazed was a blessing, I'm not sure we could have done it without the shared space. It can be difficult switching hats throughout the day and trying to be on a similar schedule.

What changes have you seen over the past 18 months during covid?
We have seen a lot of people staying in doors and wanting to beautify their homes, which I think has been one of the reasons our candle business has been so successful. Our candles are affordable sculptures that can bring literal light into your home. Not only do they create ambiance, but they bring a pop of colour and joy, which I think we have all really needed in the last 18 months. There has been a lot of focus on food and cooking, and our candles are luckily the perfect accompaniment.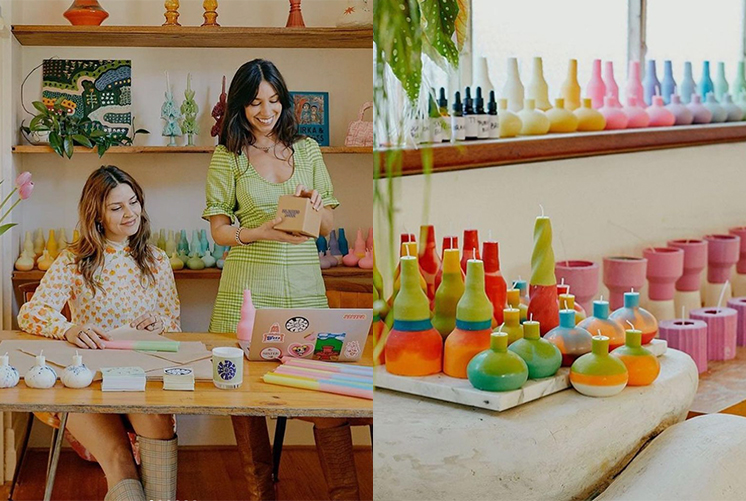 Favourite part of running your own business?
We absolutely love the collaborative side of running a business together, as well as the flexibility of being your own boss and having the freedom to experiment with creativity. We feel so lucky to wake up every morning and go to work, we absolutely adore our job!

How has your approach to sustainability changed in the past few years?
Sustainability has always been really important to us. The reason we love working with wax is it means there isn't a lot of waste involved, any mistakes in the making process are melted down and turned into new candles that we can sell. The wax we use is also biodegradable and non toxic. We avoid the use of any plastic, and all our packaging including postage stickers and even sticky tape is compostable. This was always an important part of our ethos from day one, as something as fragile as a candle needs a lot of packaging and we really didn't want to contribute heavily to landfill with single use items, so we tried to solve those problems early on.

What's next for your business?
We are looking at moving into new homewares! We are starting by bringing some other designers into our website and hopefully some collabs are not too far in the future. Also keep an eye out for some new candle shapes in the not too distant future!!

Visit blazedwax.com or shop our selected range here.

Photos by Amelia Stanwix for The Design Files.