WE LOVE
S-KIN STUDIO JEWELRY
We talk to founder Chi about her growing business creating ethical jewelry without the crazy price tag.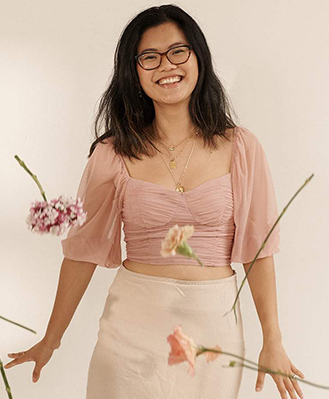 How did your business get started?
S-kin Studio started as an outlet for me to create, but the main business was formed when Alex (my partner) gifted me a necklace that quickly tarnished within a week for our anniversary. I have very sensitive skin and soon realised that the jewelry was plated and hence causing my skin to become irritated. It was at this time that I thought, there must be a way to make jewelry affordable while still being good quality. The answer was to use gold fill not gold plated materials - and so the idea for S-kin was born.

What changes have you seen over the past 18 months during covid?
2020 was difficult in that my primary factory in India suffered terribly from the coronavirus pandemic, which left me out of stock for around 8 months in 2020. I had to pivot and go back to my roots to make jewelry myself from findings and solidifying our audience in order to cultivate that community aspect that has made us so successful. I focused on customer retention rather than acquiring new customers, our customers made it possible for me to expand the business and hire my first full time employee & move into a leased office. I then created our first retail store based in inner Melbourne (Bulleen). We had to however close the past 4 months due to COVID and recently moved (again) to Richmond/Cremorne – it's been super challenging but very rewarding now that Melbourne is opening up again!

Favourite part of running your own business?
I really enjoy both the business and creative side of business! So I would say there's no one part that I love most, but I feel incredibly fulfilled in my work so that really drives me!

How has your approach to sustainability changed in the past few years?
During the recent bushfires I was educated about the devastating effect of climate change. Scientists expect extreme fire weather will continue to become more frequent and severe without substantial and rapid action to reduce greenhouse gas emissions.

I felt along with everyone at the time the strong urge to do something to change the way that this trajectory was heading. I made changes in my own personal life to become more conscious of my footprint as well as made a commitment for the long term for my business to be sustainable.

Since then I have made several steps towards changes to reflect these values. Our factories are now certified members of the Responsible Jewelry Council & socially accredited by BSCI for ethical and legal treatment of workers. We are a proud member of 1% for the planet – we donate 1% of all our earnings towards high-impact non-profit organisations that work towards a more sustainable future. As a supply chain we have reduced 30% of our virgin plastic and 100% of all plastic included in our orders.

We acknowledge sustainability is a journey and continue to contribute towards a better future for our environment and the earth.

What's next for your business?
So many things! Opening our new location, creating a bridal experience in store, and taking extended leave for the first time for my first baby will be in store in the next few months 😊.

Visit s-kin.com.au or shop our selected range here.