WE LOVE
PHOEBE EAST, ALCHEMILLA STUDIO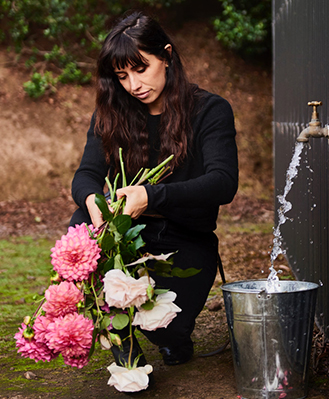 From plant parents to veggie patches, recent years have seen us seek a deeper connection to nature.
Whether as a result of lockdowns or changing lifestyles, post-pandemic there is an increased yearning to spend more time outdoors.

And, as awareness of the world around us continues to be amplified, there is a growing sentiment to prioritise our backyards and balconies into flourishing natural ecosystems that benefit both planet and people.

Nurturing a picturesque plot of land in Birregurra — a small town behind the Otway National Park in Western Victoria on Gulidjan Country — Phoebe East, of Alchemilla Studio, is passionate about lunar and cosmic farming.

By following the age-old practice of planting by the Moon's phase for a healthier, more productive garden, the permaculture expert has created a holistic system that supports healthy life from below the soil to the environment and community around it.

It might sound technical, but Phoebe is determined to educate others on just how simple and accessible this practice can be. She shares with us some simple ways to incorporate lunar gardening into our lifestyle.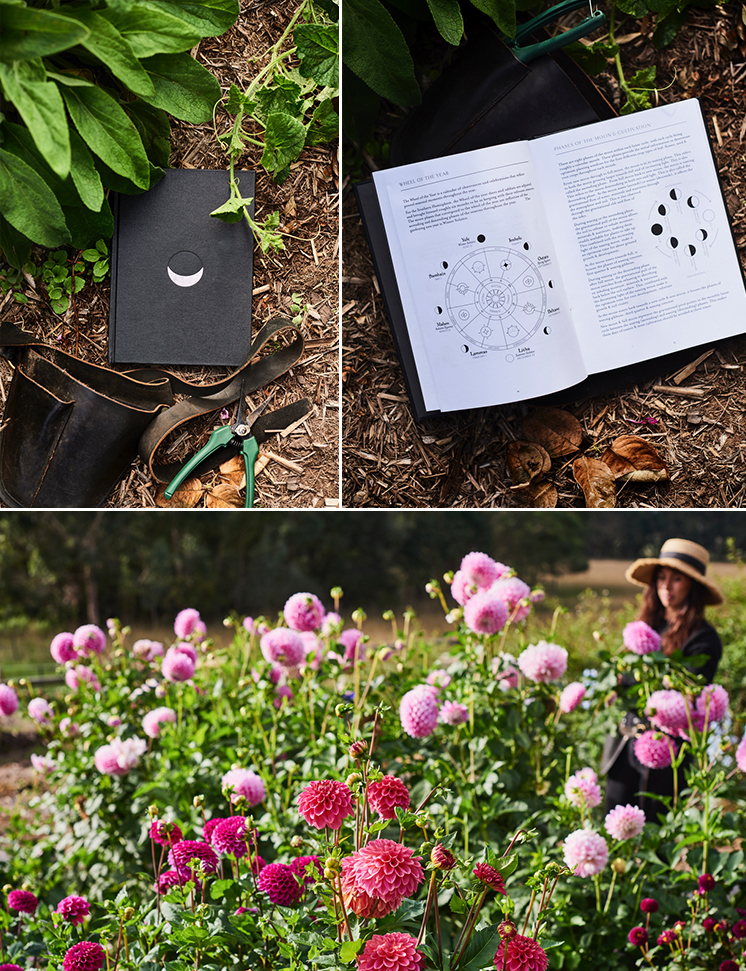 You use biodynamic and permaculture techniques to plant, harvest and nurture your flower farm throughout the seasons. For those who may not be familiar with the practice, can you explain what planting by moon phases means?

As the moon waxes and wanes throughout its monthly cycle, it effects the gravitational flow of water, nutrients and minerals through soil and plants. When this is combined with the lunar transit through the constellation belt and planets, optimum planting windows are created for the four main crop types of leaf, flower, seed and root plants.

Along with these planting windows, the energies and polarities created by the moon and other planetary or celestial movements provides ideal times for other cultivation and management, such as spraying fertilisers, taking cuttings, pruning, composting or periods of rest.

Planting and cultivation according to lunar cycles has experienced a resurgence in recent years, but how long have people been practicing it for?

Biodynamic agriculture as a defined cultivation method and practice began with Rudolf Steiner in the early twentieth century in response to the industrialisation of agriculture in the 19th century. However, the importance and inclusion of the sun, moon, stars and planets in agriculture has been observed and incorporated in essentially every civilisation in some capacity since the Neolithic era.
What do we need to get started?

It all begins with understanding the aspect of the site along with its soil profile. This will provide you with the essentials to understand what your landscapes strengths or weaknesses are and how to design around that to enhance and create an abundant and healthy garden from that point.

I'd also recommend reading up on holistic cultivation techniques before getting started to ensure that any work that needs to be undertaken is done with as little disruption as possible to the local ecosystems and soil web already in place. In terms of tools, broad forks are a great way to aerate the soil with minimal damage (any garden fork is preferable to a spade in fact), and definitely start stockpiling all your cardboard- it's a fantastic resource for mulching. Reading up on the guiding design principles and ethics of permaculture will really help in designing a garden or landscape too.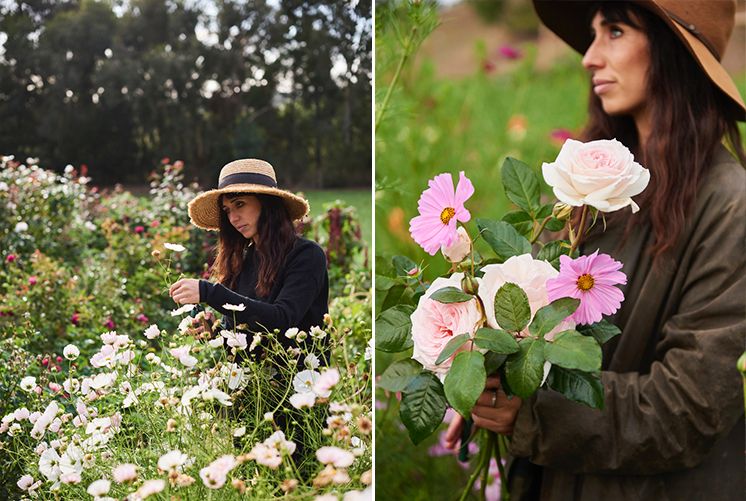 What — and when— should we be looking to plant in the month of June?

June is a really lovely month in the garden with the Winter Solstice on June 21st, being the gardening new year. As it is the shortest day and night of the year, it's from this point forward (even though it doesn't feel like it), that the cycle begins again with the slow but steady increase in light, life and activity in the garden. Because the soil is cold and light hours are still low however, it's an ideal time of the year to get plants in the ground that are in winter dormancy. Even though above ground it appears there isn't much happening, the soil web is busy. Planting things such as bare rooted roses, raspberry canes, asparagus and rhubarb crowns at this time allows them to grow healthy root systems (they are putting all of the energy into subterranean activity at this time) and absorb nutrients and minerals before sprouting in spring.
How are the guiding principles of holistic cultivation more sustainable?

The guiding principles of biodynamics, permaculture and organic farming are more sustainable as they look to use methods that work with nature rather than trying to impose synthetic or toxic solutions to the cultivation process. By using methods that nurture the soil web, create biodiversity, encourage locally grown and seasonal produce they create a landscape that sits within its local environment, eradicating the need for herbicides, pesticides and insecticides while also protecting native flora and fauna, local waterways and encouraging community awareness, health and engagement.

Can you tell us a bit about the 2022 Lunar Almanac & how it can help with sustainable gardening?

The Almanac came about by wanting to put together a resource for gardening enthusiasts that helps make biodynamic gardening and holistic cultivation readily accessible, at all levels. The Almanac is an annual gardening diary and guide to planting and cultivation according to the lunar cycles throughout the year.

The Almanac provides monthly lunar planting information alongside monthly & seasonal gardening advice. As the almanac follows the lunar cycles throughout each month, it also offers corresponding seasonal cultivation advice, such as optimum planting windows, organic gardening tips and tricks and a monthly journal to keep records of gardening activity throughout the year. In terms of helping with a sustainable approach to farming and gardening, aside from learning how to cultivate with the lunar cycle, it has plenty of holistic cultivation techniques and suggestions throughout, along with a glossary to help define holistic cultivation methods and terminology and how to incorporate and understand these.

What role does gardening play in our overall physical and mental health and wellbeing?

Gardening is a great way to still the mind and to drop into the immediate and present. Nature provides an awareness to the bigger picture away from the stresses of day-to-day life; being able to observe and interact with the rhythms and patterns of nature and to be outside away from screens and deadlines in sunlight is incredibly beneficial in lifting mood, calming down and resetting energy. Physically, it's also fantastic although if you're planning to spend a lot of time in the garden, I would definitely recommend keeping up core strength with pilates as it can get really demanding and taxing if your body isn't strong enough.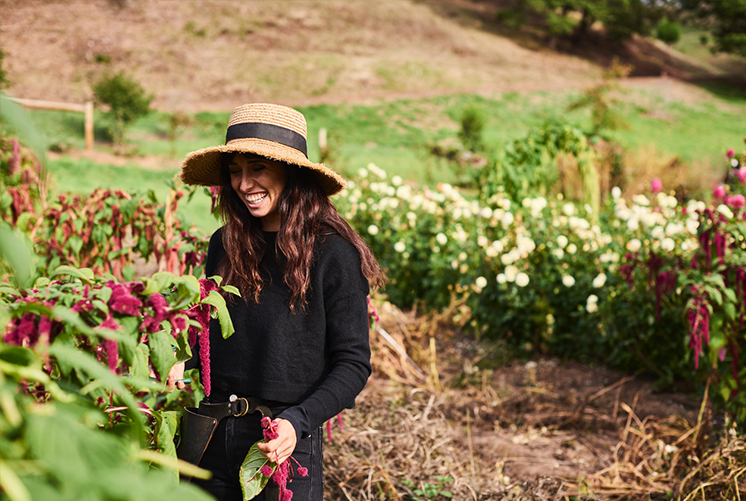 CERES SUSTAINAHOOD QUICKFIRE QUESTIONS
What or who inspires you to act on sustainability?
I'm always inspired by all the other sustainable flower growers around the globe, who continue to grow, educate and inspire both florists and flower lovers and consumers alike to choose sustainable, local and seasonal flowers.

What change would you like to see in the world?
It's really important to me that large scale corporate, industrialised agriculture moves towards negating the devasting effect it has and continues to have on the environment and its consequent impact on climate change. Environmental damage caused by large scale agriculture includes land and soil degradation, loss of topsoil, destruction of biodiversity, excessive carbon emissions, drained and polluted waterways, seed monopolisation and deforestation to name a few.

How have you managed to embed sustainable thinking within your business?
With regard to farming and flowers, everything is done using slow and small solutions that are organic and have minimal impact on the landscape. Much of the farm is composted seasonally, closing the loop for external inputs. All flowers are wrapped in biodegradable/recyclable paper stock and the printing house Ligare, who published the Alchemilla 2022 Lunar Almanac, are partnered with the carbon neutral Plant A Tree Program and the PEFC & FSC.

What is a change you have made this year to live a more sustainable life?
I'm starting the process of switching the house over to solar and would also like to get some more water tanks. More day to day includes the endless battle against single use plastics and getting my veg garden up and happening again.

Which unsustainable behaviour do you feel guilty about and are committed to changing in the future?
Living in a small rural town, and working in agriculture, I have to drive and use my heavy diesel car every day. I'm looking for ways to offset this in the seasons ahead…

What is the one piece of advice you would offer to others seeking to create change?
Believe in the change that you want to see- it sounds trite but it's really important to believe in your cause and practice it so you can educate, empower and inspire others to do the same.

What is something you have read, watched or listened to lately that inspired you?
'Fire Country' by Viktor Steffensen

What do you love most about being in nature?
I don't have a particular spot, I find that being in any landscape whether that's old growth bush, rainforest, wide open plains, up in the mountains, by the ocean or even in landscaped gardens and parks is always rejuvenating, calming and inspiring.


If you would like to know more about moon planting windows and other biodynamic practices, visit www.alchemillastudio.com/