Seamlessly blending a laidback Aussie beach aesthetic with sleek Scandi style, content creator Fredrika Akander is adored around the world for her refined sense of style. But it doesn't take long to discover that unlike her approach to fashion, her approach to life is anything but minimal.

A photographer, activist, model, mother, influencer, yoga teacher and home renovator, we are thrilled to welcome the incredibly multi-faceted creative as Guest Art Director for our versatile summer collection.

Putting her signature Scandi-spin on our easy, breezy style, we also caught up with Fredrika to discover how her experiences have influenced and evolved her wardrobe.

We also chat about joining forces with the Cotton On Foundation and how she has used her online presence as a powerful platform to champion causes close to her heart, including her Menstruation With Dignity project.

You are from Gothenburg in Sweden, a beautiful part of the world. How did growing up there inspire your style?

I loved growing up in Gothenburg, and I still love going home. Unfortunately, I've been away for so long now that I feel like a tourist. Covid was tough because I usually go home every year and get my little Sweden fix. Gothenberg has a particular Scandi style that is about versatility rather than being super trend-driven. It's more understated and effortless. Gothenburg is definitely where my practicality comes from. I remember when I was a child wanting to wear only a denim jacket, but it was minus something degrees, so you would have to wear your puffer coat. That led me to create a capsule wardrobe with a purpose for everything, but you can also repurpose pieces for different situations.

You lead such a busy and diverse life; how has that influenced your approach to style?

Capsule wardrobes make so much sense both from a lifestyle point of view and sustainably speaking. It makes sense that when you buy a new piece, you consider how it will work with your existing wardrobe. It's funny when we moved into our new house; I was unpacking my stuff, and Nick, my partner, was like, 'you literally have only white, black and beige stuff', and I'm like, 'that's because there's no colour - so they will go together'. It means when I get up in the morning to go for a walk, I don't have to think about what I'm going to wear, it's all just there and all goes together.

How important is staying true to your style in your job?

Since I was a teenager, I have always stayed true to myself, but unfortunately, I did get very caught up in my work and how brands wanted me to wear their clothes or style their looks. What was beautiful during covid was that while a lot of my contracts got pulled and there was no work, it gifted me this creative freedom to be like, 'ok, I'm going to wear, style, shoot and post what I want'. As a result, I've attracted brands and opportunities that feel more aligned and genuine with my style.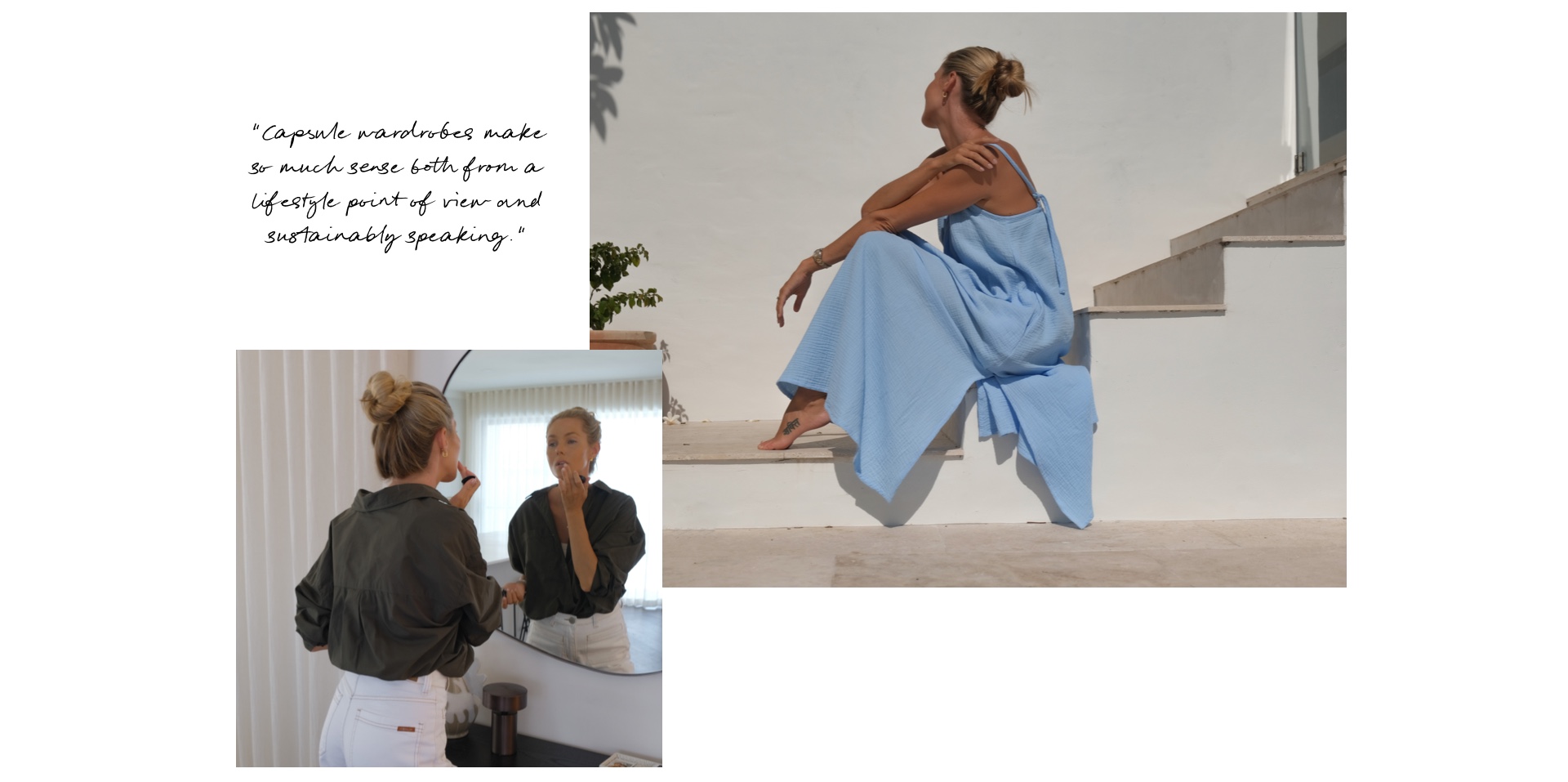 You have lived in Australia for many years and spent a lot of time in Melbourne before moving to the Gold Coast. What do you love about your lifestyle where you are now?

You know, it's funny, I've always seen myself as a city person. I spent time in Vancouver and London before I came to Melbourne, so it's all been quite big cities. And then, during covid, I realised I don't actually enjoy this. I love having the ocean just a few hundred metres down the road. It's just made the biggest change in my mood. And also, having a child and knowing the kind of childhood I can give him growing up on the beach is something I could never have dreamed of as a child. It's amazing.

You became a mum in March to a little boy, Axel; how has motherhood changed you?

It changed me a bit, and I hope for the better. I was quite a harsh person before, and motherhood has made me softer. It sounds so cheesy, but I now like to stop and smell the roses. Becoming a mum has made me more emotionally involved in the causes that matter to me. Before, I was almost academic about it. Like, well, this is the problem; here's the solution. Now I get so emotional and caught up in every individual story.

While completing your postgraduate degree, you discovered an epidemic of young women, particularly in sub-Saharan Africa, missing school due to poor access to sanitary products. Can you tell us more about your findings and how they led to your initiative, 'Menstruation with Dignity'?

When I did my dissertation at Kings College, I researched barriers to girls' education in Sub-Saharan Africa. One major hurdle for girls in this area is access to sanitary items.

When unable to safely manage their period, many girls miss valuable time at school every month, leading to many falling behind in school, dropping out and even putting themselves in dangerous situations to afford sanitary items.

Menstruation should not be a barrier for girls to achieve a better future for themselves. For me, it was unacceptable, and I just had to do something about it.

At the time of my research in Uganda, one sanitary pad cost $1, the median income for a household in certain areas. So, if you have four children and make $1, you're not going to spend that on one pad that you can use for a few hours.

Naively, I began trying to collect disposable sanitary items because that's what I use before realising that there is no garbage system in these areas - so that would create more problems. Then I thought, 'ok, we will just use cups', without considering the cultural ramifications. I just felt so silly; I was really out of my depth.

And that was when I met the Cotton On Foundation team.

You visited Uganda with the Cotton On Foundation. Can you tell us about this trip and what you and the Foundation accomplished?

I quickly realised this was a much larger operation than just distributing sanitary items. We had to ensure women were also receiving education on how to use them, clean and dry them, and not share them. Many of the girls in the areas we were working in also had no sexual education. They weren't informed about menstruation and how to protect themselves from unwanted pregnancies and STDs.

In 2019, I partnered up with the Cotton On Foundation. We conducted empowerment and health workshops in Mannya in, Uganda and distributed hundreds of kits with reusable pads and education to school girls in the area. The opportunity to talk to the girls face to face helped me gain perspective on what would best help them. I raised more funds for Menstruation with Dignity, however, only a few weeks later, Covid hit, and borders closed. In terms of the future, it is an initiative that I'm still passionate about, but I am also very cautious about doing it right.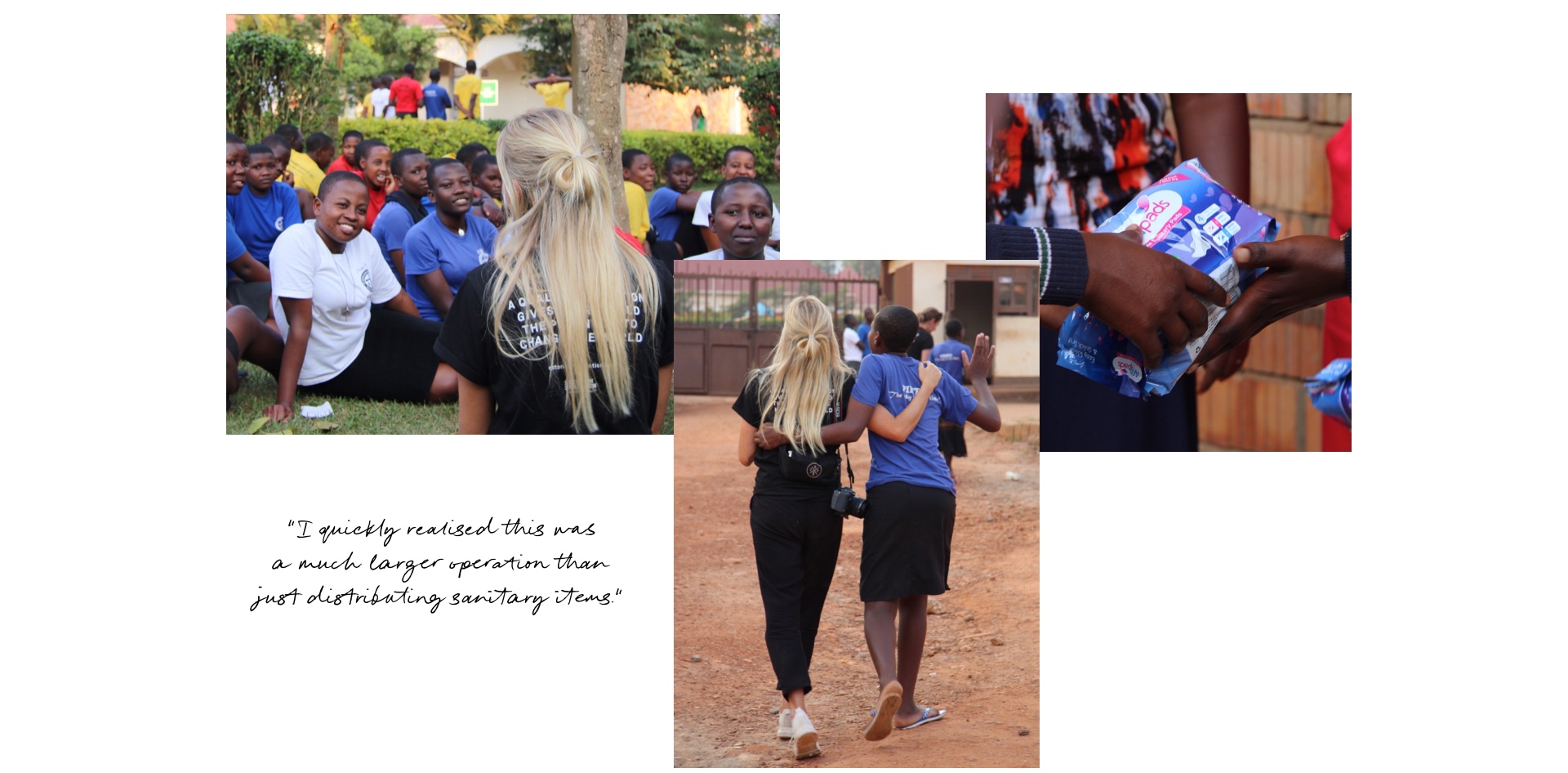 We are all looking forward to a carefree summer of thinking less and living more; what are some of your favourite summer styling tips, and what pieces do you love from the collection to create a capsule summer wardrobe?

I'm looking forward to just really, really relaxing. I am getting married in December, and I will have my family over here, so I will have lots and lots of family time. Probably around the house, lounging around my pool in my Ceres dresses. The long dresses are versatile; you can throw them over a bikini and go down to the beach, and you can dress them up with chunky earrings for more of an evening style. I love that they made a black and white piece as well. They are so easy to elevate.

As Guest Art Director for Ceres Life, what were you hoping to capture and showcase in this campaign? What was your inspiration?

It was convenient because I could shoot at home while my baby was napping. But also, I wanted to show a simple approach to wearing and styling it. I spend a lot of time at home and wanted to capture this everyday life — it's me in my kitchen, backyard, and everyday situations. I wanted to showcase the designs in a setting that was very genuine and un-staged. And that's beautiful; you can dress it up and down. And I've tried to do that a little bit in the shoot, where you can quickly switch it up with your hair, sunglasses, or jewellery.


1. What or who inspires you to act on sustainability?
My baby. I look at him and think, what world are you going to live in when you're older? What will it look like when you are an old man? I cared about sustainability before, but it has become more real now that I created this little human. You think your time is limited, but this person will be here after you.

2. What is a change you have made this year to live a more sustainable life?
I have reduced my travel. Covid helped, but usually, during a year would be on a plane once every two weeks, now if I don't need to fly, I'm not. If I can stay home and work from here and do everything locally, that's what I do. It's why we wanted to renovate our house because I want to be able to shoot all my stuff and my work in and around the house. I want to stay local as much as I can.

3. What is the one piece of advice you would offer to others seeking to create change?
Find something that you know you can stick to. I was talking to this couple we know who are vegan, and I was so inspired, but one of the things they told me was, don't overcommit, make little changes, or reduce certain things. If you change everything in a day, you are less likely to sustain it.

4. What do you love most about being in nature?
As a yoga teacher, I love being outdoors. When I'm in nature, I feel connected to the bigger picture, which puts me in perspective. It puts your feet on the ground and humbles you a little bit.